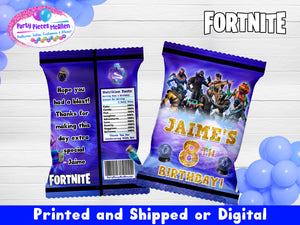 These chip bag labels are the perfect addition to your little one's birthday celebration. They fit 1oz chip bags, cookie bags, pretzels, crackers, candies, & more!

1. Digital Files- you print as many as needed- Chip Bags print to 8.5 x 11 sheet

All you need is double sided tape (better finish) or hot glue, zig-zag scissors, and crimper if you want that "sealed" finish on top.

Place label over chip bag to avoid grease stains or zip lock bag for unpackaged candy.