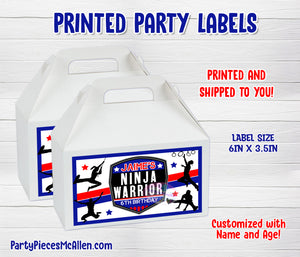 Hi there! We're so happy you're visiting our shop!
These stickers are perfect for your little ones celebration! Bright printed colors!

Are they customized?
Yes! Name and age!

Can it be done with no customization?
Yes! Customization is up to you, if no customization needed please leave it on the notes.

What size are the labels?
Labels are 6in. x 3.5 in.

Are they adhesive?
Yes! Just peel and paste onto anything!

Can you do a different size?
Yes! This is the standard size for boxes but if you need a different size/shape message me!

Office hours: Mon-Sun 10 am - 8 pm, if I have time I will send them to you even after 8 pm.
Shipping Info:

To any shipping option you choose at checkout add the processing time (time to make items) to get an idea of when you recieve your items.

Processing time: 1-2 days after you make your order, if you have any questions regarding fit or shipping time please feel free to contact us on Instagram/Facebook or at partypiecesmcallen@gmail.com
COPYRIGHT NOTICE:
We do not sell or claim ownership of the characters that are being used, they are owned by their copyright holders.