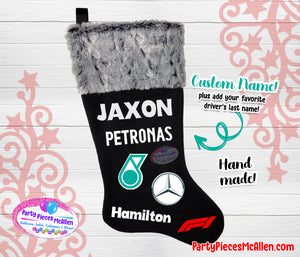 Christmas is right around the corner, so don't let time pass, make sure you've got all of your gifts ready to go!

This beautiful handmade Christmas stocking with soft faux furry details is perfect for your racer fan!
It is customized with his/her name in vinyl plus you can add their favorite driver!
The faux furr is all around the top of the stocking and soft fleece on the body.


Let me know if you have any questions or are looking for a specific item :) Will be more thank happy to help!
More characters available!
Shipping Info: 
To any shipping option you choose at checkout, add the processing time below (time to make items) to get an idea of when you receive your items.

Processing time: 2-3 days after you make your order, if you have any questions regarding fit or shipping time please feel free to contact us on Instagram/Facebook or at partypiecesmcallen@gmail.com