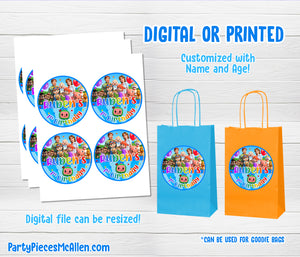 Hi there! We're so happy you're visiting our shop!

Watermelon Digital File Printed and shipped or Digital Round Party Labels, customized with name and age!

These labels can be used for goodie bags, goodie boxes or anything you'd like! You can print as many as you want.

Printed and shipped:
4in round pre-cut circles, mailed to you.

How do you get the digital file?
I will send the personalized files to the e-mail you within a few hours.

Office hours: MON - SAT 10 am - 8 pm, if I have time I will send them to you even after 8 pm.